You are engaged! You're letting everyone know how you were proposed to, and your glowing!
You went straight to your local Barnes and Nobles and purchased every wedding magazine on the shelf, and you have created a private board on your Pinterest account because you don't want to share your ideas with anyone. Am I right? Did I nail it?
It's okay, this is just the beginning of the giddy wedding planning syndrome. With the internet being an open source for all your wedding planning needs, it can be quite overwhelming because there is too many options.
STOP! If you are here, it's because you've already made the decision to have a small wedding! Let's check that one off your list. That's a big decision in itself.  Yet, we need to simplify the process, and yes there are many tools and resources to bring your small wedding dream to fruition.
I've narrowed down the TOP 3 WEDDING PLANNING BOOKS on the market now that will simplify your wedding planning needs. Combine these choices with your Pinterest pinning and you have a combination to reckon with! 
(This post may contain affiliate links, and we may earn compensation when you click on the links at no additional cost to you.)
Staying on budget for your wedding can be overwhelming! Whether you may have a $10,000 budget or a $1,000 budget, with this wedding planner, The Budget Savvy Wedding Planner, by Author Jessica Bishop will help you stay focused on your budget and will help you stay organized. You can be insane with excitement while planning your small wedding, but you don't have to go INSANE!
Here is a budget brides handy dandy resource guide that you can carry with you everywhere. What's your budget? $1,000, $3,000, $5,000 - does it include your honeymoon? Maybe $8,000 and that may have to include your honeymoon. Are you a DIY bride that may need something to keep you focused on the task and not get sidetracked? The Broke-Ass Bride's Wedding Guide is your cushion to start your marriage on the right foot and spend where you need to so you can still save for a rainy day. I mean, you don't want to go into your marriage in debt and broke, DO YOU?! (The sad part is most couples do...)
No one has ever said planning a wedding is going to be an easy task! The Wedding Planner Checklist can soften the anxiety that comes along with planning a wedding. Whether it may be small or a big wedding, you will need an organizational tool to keep you focused and in line with your ultimate goal. This is a perfect purse companion, and it is absolutely PERFECT for the Bride ON-THE-GO!
You can spend hours in creating a make shift notebook that you think will keep you organized or you can grab one of these amazing wedding planning books above and start actually making a dent into your awesome wedding day! 
The bottom line is you are planning a small wedding, or else you wouldn't be here. So lets keep it simply organized.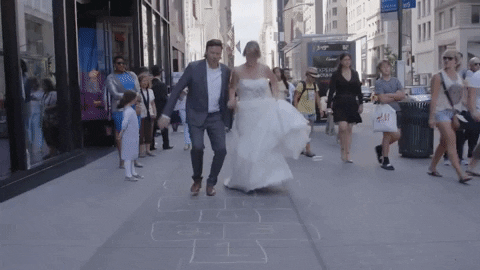 You'll want to hopscotch in the middle of New York too after you've planned your wedding day using one of these Top 3 Wedding Planning Books!
Happy Wedding Planning!
Keilani
Please reload